Therapeutic Massage
About Therapeutic Massage
Therapeutic Massage is a combination of Sports, Hot Stones Massage, Medical Massage, Shiatsu and Reiki, tailored to each person's needs.
For an in-depth treatment of specific problems e.g. lower back pain or frozen shoulder, whiplash, and all soft tissue pain conditions and/or a thorough head to toe deep-releasing luxury treatment.
It will speed up muscle injury recovery and improve organ function, circulation and posture, and leave you with a wonderful sense of well being.
Practitioner: Gillian Steer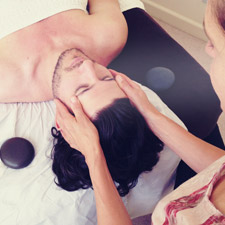 ---
Rediscover your well-being
I have nearly 30 years experience of treating bodies. My first training was in Shiatsu, so I approach the body as a whole and consider the flow of energy in the person when treating pain and tension. Each treatment is tailored to the individual and what is needed on that day. For example, chronic headaches can be treated by releasing trigger points in the neck and/ or shoulder but also, because of dehydration in the tissues, fascia work may be indicated, acupressure points could be useful to balance the liver. In addition there may be a level of emotional stress and /or the client just needs a thoroughly relaxing treatment to help switch off and recharge. It could be one or several of these factors.
I assess what approach to take through the clients words and listening to the body with my hands. I use hot and/ or cold stones, where appropriate, in most of my treatments. The addition of a hot stone, used to iron out deep tension has to be experienced. I incorporate myofascial release where appropriate in a treatment. Fascia is the soft tissue part of the connective tissue that provides support and protection for most structures within the human body, including muscle. It connects everything to everything. This soft tissue can become restricted due to overuse, trauma, dehydration, infection or inactivity, resulting in pain or muscle tension and/or a general feeling of restriction. It feels wonderful to have it released.
---
Massage Qualifications
Shiatsu
– British School of Shiatsu-Do (Japanese body work based on the meridian system to re-balance the body), 1985
Reiki
– Hands-on healing promoting the person's own healing and producing a wonderful sense of well-being (teacher level), 1989-2001
Sports Massage
– Muscle focused training, 2003
Indian head massage
, 1992
Jing training
(Advanced training), 2009-2011
Clinical medical massage series includes training in:
Lower back pain
Neck and shoulder and shoulder girdle
Hip and pelvis
Carpel tunnel and arm pain
Leg knee and foot
Advanced stretching
Myofascial release
Hot stone therapy
---
---
Testimonials
'World Class – What makes a world class therapist?
– An understanding of the human anatomy and physiology and of the massage techniques which work well;
– A genuine desire to help people to feel better;
– Lots of experience in both giving and receiving massages;
– Life experiences and wisdom.
Gillian Steer has all these qualities and is an exceptionally good massage therapist! I know this because I have been a massage therapist myself for over 20 years. I have also had the privilege of experiencing massages in many top Spas around the world. Gillian's technical repertoire is extensive. I love the stretching and Fascia work. Her approach is holistic and totally bespoke. She tunes in to what I need each time and rebalances me. Gillian began treating me when I was pregnant and I've continued having regular massages from her ever since. My baby is now 6 months old and we have recently moved house. So many stresses! Gillian's wonderful massage and Reiki treatments have kept me sane and in good health! I always feel highly better in every way afterwards. I can honestly say that Gillian Steer is one of the best massage therapists in the world! – Lucky me! Thank you so much Gill.'
Vanessa
---
'Gillian was recommended to me by a friend as I had chronic back and shoulder pain, I literally couldn't move and but lying still was also pretty painful. I had somehow ignored the gradual build up of this issue for some time and needed immediate and profound help. In the space of two hours she had dissolved the worst of the muscular trauma, identified the broader context of why it was happening, and given me tools to protect myself from these issues in future. I could actually walk, stand, move around, and I was back in work the next day. She described my shoulders as the place where I stored my tension, and it was like a car park, bumper to bumper full, but cars had started stacking on top of each other as well, and she was right! I was hugely impressed with Gillian so continued to see her at regular intervals, both to keep an eye on the muscular tension, and increasingly to get her profoundly insightful interpretation of my life, as conveyed to her through what was happening with my body. Her comments have always been true, and come from a place of great intuitive knowledge. In hindsight her advice has been invaluable. I always left her sessions feeling alive, inspired, and better equipped to deal with the world. I would have no hesitation in recommending Gillian if you have aches or pains of the mind, body or soul, or just want to get in touch with yourself. She is a true healer, a rare gem, and you will be glad you found her.'
Oisin
---
'I have had treatment from Gillian for the past 8 months SHE IS AMAZING LADY
I have an hour and a half of fantastic massage on the fascia and boy is it good I feel so different when I leave.'
Chrissy
---
Bookings
Price: £50 for 1 hour
For a general relaxing whole body treatment or deeper work to a specific area.
£75 for 1,5 hours
Allows more time for deeper work to the whole body.
£90 for 2 hours
Time to totally unwind with deep work to the whole body.
Gift vouchers available
Book a session